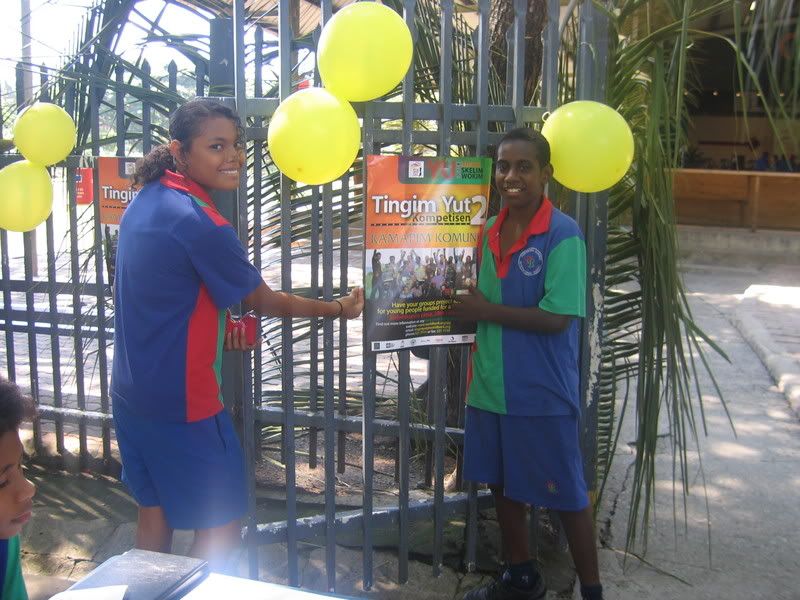 Tingim Yut Kompetisen 2007 Launched  
Port Moresby, November 27, 2007 – The Tingim Yut Kompetisen 2007 will be launched at the Koroboro International School today. Youth groups and community organisations are encouraged to participate and submit their innovative proposals for community projects from all around PNG.
The Tingim Yut Kopetisen held last year received a record number of 820 proposals from around the country. The theme of this year's Kopetisen is "Kamapim Komuniti". The Tingim Yut Kompetisen is a nationwide search aimed at finding and funding innovative projects for the benefit of PNG's young people.
It is an initiative of the World Bank in partnership with Air Niugini, Bank South Pacific, Coral Sea Hotels, Digicell, Divine Word University, NASFUND, Pacific Enterprise Development Facility, Koroboro International School, and the French Alliance. 
The main objectives of the competition are to identify workable, ground-level ideas that will help address PNG's key development issues and to assist small organizations to develop proposals and seek funding. The competitive process will identify local innovators and provide donors with potentially new avenues to work effectively at the grassroots. Ideas that work well will be publicized and may serve as successful models for use elsewhere.
The Tingim Yut Kopetisen assessment process will include workshops to assist the finalists to fully develop their proposals. Through these workshops finalists will be encouraged to develop their skills in budgeting, project management, monitoring and evaluation etc.  There will also be displays of innovative ventures by young people who are already doing something within the community in Papua New Guinea.
A youth representative will also be a guest speaker talking about their experience as youth entrepreneurs . Proposals to be submitted to the World Bank and the closing date for submission of proposals will be Feb 29, 2008. The assessment of the submissions will take place in April 2008 with winning groups to be announced end of the month.
These groups will then be asked to nominate one person to attend a workshop at Divine Word University in Madang to develop more detailed proposals and learn about project planning and implementation. In early May 2008, a representative from all finalist groups will be brought to Port Moresby where they will display their project ideas at a public forum.
On the Award Day, a panel of distinguished Papua New Guineans will decide and announce the winners. Winning groups will have their projects funded for 12 months. To be eligible for consideration, recognized youth or community groups have to find partnering organizations then submit application that answers a set of questions about their project plans. 
For more information please contact:  Port MoresbyRex Paura 675-321 7111 Email: Rpaura@worldbank.org